I will be showing a few pieces in the group show at Cactus Gallery. All the important info is below. I will be at the Artist Reception on Sept. 16th. If you can't make it out to that, the show will be running from Sept 9th-Oct. 13th.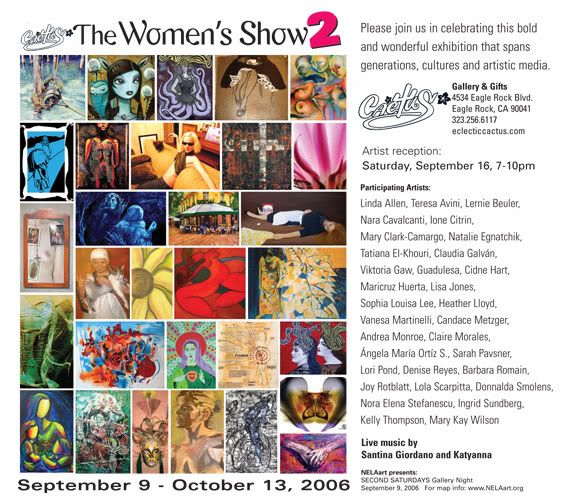 OVER 30 WOMEN ARTISTS SHARE VISIONS OF FEMINISM IN THE WOMENS SHOW 2 ART EXHIBIT OPENING SEPTEMBER 9
August 24, 2006 — Eagle Rock (Northeast Los Angeles). 30 Los Angeles women artists have joined together in an exploration of the spectrum in all its brilliance and subtlety. The exhibit, The Women Show 2, will open for an extended run at Cactus Gallery in Eagle Rock(Northeast Los Angeles), with a reception for the artists on Saturday, September 16, 2006.
The 30 or so participants in the exhibition span generations, cultures, and artistic media, but they find themselves brought together both as women and as artists who express themselves through color, photography and sculpture in all its subtle and startling complexity. The works are bold and thought provoking. This should be a must see show on every art aficionados list.
Cactus is a vibrant space for creative people. We seek to inspire & enliven the community by giving opportunities to experience the eclectic diversity that is the arts. In our creative space, weve enjoyed the spontaneity of live drawing; live painting and live music. Cactus is ever evolving and ready for the next idea.
The Womens Show will run from September 9 through October 13, 2006, with an Artists Reception scheduled for September 16, 7:00 10:00 p.m.
Cactus Gallery is located at 4534 Eagle Rock Blvd., Eagle Rock, CA, (Northeast Los Angeles). Call 323-256-6117 for appointments and more information. Or check out their website: www.eclecticcactus.com/. Sandra Mastroianni, gallery director and co-owner semastroianni70@yahoo.com.